We've heard your calls, DMs and bar banter. Yes, Sourpalooza is BACK!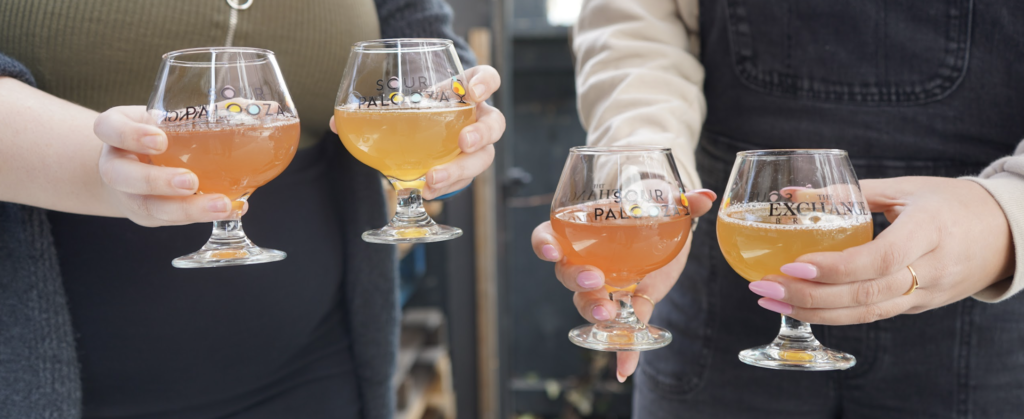 Come talk sours with us on Saturday, May 13th at the Sourpalooza 2023 Beer Festival held at The Exchange Brewery! This year you get to sample while exploring our entire brewery + sit and sip on outdoor patio AND in our attached beer garden!
Sample some carefully curated funk from 14 very different breweries from all around Ontario this year (that's 6 more than breweries than previous years!) We'll also have a large selection of cellar beers that we've been saving for this year's palooza. That means you have 30+ beers to sample during your 3-hour session, do you think you could try them all?
Don't worry, if you miss out on trying one or want to take home some of your favourites from the festival, we'll have bottles & cans available to take home in our taproom!
SESSIONS:
Session 1: 12pm – 3pm  |  Session 2: 3pm – 6pm  |  Session 3: 6pm – 9pm 
2023 PARTICIPATING BREWERIES: 
Bellwoods Brewery | Bench Brewing Co. | Block Three Brewing Co. | Burdock Brewery | Collective Arts Brewing | Counterpart Brewing | The Exchange Brewery
Fairweather Brewing Company | Halo Brewery | Indie Alehouse | Merit Brewing | Meuse Brewing Company | Short Finger Brewing Co. | Small Pony Barrel Works
YOUR TICKET ($89.00+hst) INCLUDES:
Entrance to the Festival 

Sourpalooza Welcome kit: Branded souvenir glass, a bottle of water and your sampling passport to sample 2 beers from each participating brewery. 

All Beer Sampling

Fine print: 
Please have a copy of your ticket (printed or on your phone) for attending the event.

The Exchange Brewery is located at 7 Queen street, Niagara-on-the-Lake.

Tickets are non-refundable.

This Festival is 19+, ID's will be checked at the door
FAQ
When is Sourpalooza:  
Sourpalooza Craft Beer Festival is on Saturday, May 13th, 2023. There are 3 session times you can purchase tickets to:
Session #1 12pm – 3pm
Session #2 3pm – 6pm
Session #3 6pm – 9pm
Where is Sourpalooza:  
Sourpalooza is taking place at The Exchange Brewery, 7 Queen Street, Niagara-on-the-Lake. The entrance to the festival is on King St. via the brewery driveway.
What is Sourpalooza:  
Sourpalooza is a craft beer festival featuring only sour, wild fermented, mix-culture, funky and tart beers made by the best Ontario sour beer producers. Sourpalooza Craft Beer Festival has been an annual event hosted by The Exchange Brewery since 2018.
Why Sourpalooza:  
The Exchange Brewery loves sour beer! We specialize in making this niche style and want to share the love of sour beers with other Ontario craft breweries and sour beer consumers!
How Does Sampling Work: 
Samples are 4oz each, all sampling is included in your ticket price there is no additional cost for samples, no tokens required. You will receive a souvenir branded sample glass to use throughout the event. There will be rinse station at the booths to refresh your glass between samples. You are encouraged to take your glass home with you.
How Do Tickets Work: 
You can purchase your tickets "here (insert link to tickets)", tickets are $89 per person + hst. They include your entrance to your selected session (there are 3 sessions to choose from). If you want to stay in the festival for longer than 3 hours, you need to purchase entrance to a 2nd session. Included is your sampling glass, tasting passport and a bottle of water. Additional non-alcoholic beverages are included upon request. There is no food or snacks included in your ticket price. Entrance to the festival is on King Street, when purchasing your ticket you will receive a downloadable PDF with a barcode, please have this ready for scanning at the festival entrance.
Will There Be Food: 
Pizza will be available for purchase from the ExB kitchen throughout the festival. Pizza is not included in the ticket price.
Can I Bring My Baby: 
Sourpalooza is a 19+ event, IDs will be checked at the door. Small infants (20 months or under) who remain strapped to their parent via a body carrier are permitted.
Can I Bring My Pet: 
Although The Exchange Brewery is dog friendly during regular operations only working certified service dogs will be permitted into the event. The festival environment can be very high energy and too stimulating for our furry companions.
How Many Breweries Will Be Featured: 
There will be 14 Ontario craft breweries featured at the festival along with a vintage/cellar bar with previous years cellared bottles meaning there will be 30+ different beers to sample. Visit our ticket page here to see all the breweries in attendance (link again to ticket page).
Retail: 
There will be Sourpalooza Merchandise available for purchase including additional sample glasses Sourpalooza branded tie-dye tshirts. Depending on availability most beers featured for sampling will also be available for purchase to go.